European Travel Plug Adapter, NTONPOWER International Power Plug Adapter, 4 in 1 US to Europe Plug Adapter for Spain, Greece, Iceland, Italy, France Germany (Type C)
stars, based on
( 0 )
reviews
Description
---
Product Description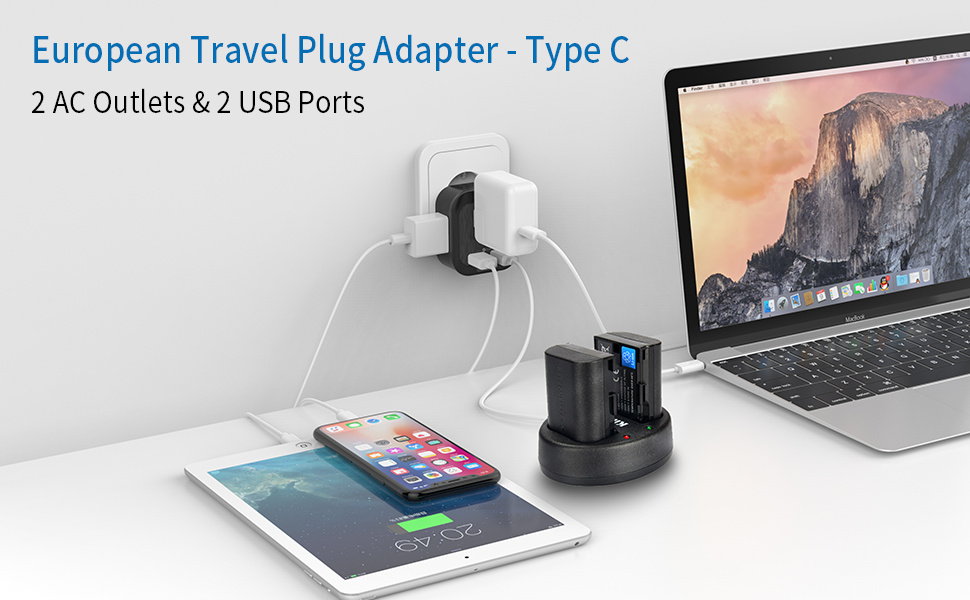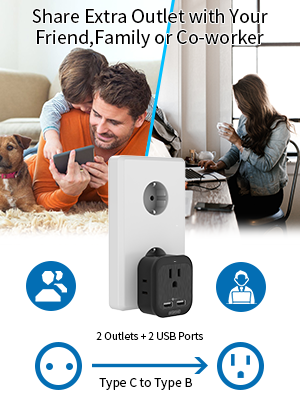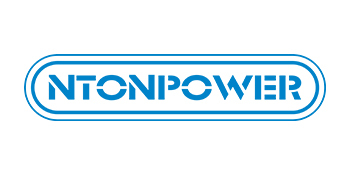 NTONPOWER specializes in multiple outlets USB Power Strips ( Outlets ranged from 2 to 12 ) for home/travel/office/business center.
Meanwhile,Our tops USB Smart Charging Technology enables fast charging and more energy savings.
This product is sold exclusively by NTONPOWER.
Only buy from our store to get genuine NTONPOWER products with superb service.
4-in-1 European Travel Plug Adapter - Type C
For Most of Europe Countries
With phones, laptops, and other tech being so important to the modern-day traveler/businessman, it's important to have the right gear on your trip.
When traveling to Europe, the wall sockets are much different than in America.There are few unreachable outlets in Europe hotel rooms, airport terminals or cruise ships.
NTONPOWER travel adapter is exactly what you need.It has 2 outlets+2 USB ports, allowing you to share power outlets with your family, friends, or even other passengers at airports
2 AC outlets - One standard N. American 2 and One 3 prong flat pin

2 USB charging ports - 2.4 per port Max

Compact and Lightweight Design

Slightly Bent Plug Designed

Superior Safety Plus

White Power Indicator

Worldwide Voltage - 100V-240V
4 in 1 TYPE C European charger adapter

This one can charge 4 devices at once,so you don't need to search around the hotel room looking for extra outlets. Perfect for group or family trip.

Smart Power Indicator

This TYPE C plug has a soft white indicator that lets you know it's working without blinding you at night. It also means the adapter is safe to use and connected well.

Easy for Packing

It is in perfect size that fits right in the palm of your hand.Compact and lightweight design won't take up much space in a bag or weigh you down. Take it and enjoy your wonderful journey. Never be out of energy!

Charge Multiple Devices at Maximum Speed

Smart IC technology enables each USB port to automatically detect and self-adjust the current to speed charge your power hungry devices with a safe current.
More Feature Highlights:
Slightly Bent Plug Designed for more compatibility

Sockets in European countries are different, Germany, France, Spain sockets are bigger, flat legs will be easy to fall off. This inner feet design makes it inserted into the sockets more firmly. This will improve the compatibility without effecting your using.

Superior Safety Plus

This worldwide travel adapter is FCC & RoHS approved with high temp fireshield outer shell, ensuring complete protection against electrical short circuit, over heat, over charging, over current and over voltage.

Compatible with all Devices That Support 100V-240V

Our universal adapter will work with any device that supports worldwide Voltage.

So make sure your electronic devices can handle a range of voltages.

Note:It doesn't convert voltage.

European Cruise Ship Must Have

Cabins have very limited power outlets. NTONPOWER travel adapter usb has 2 outlets+2 USB ports which can be ideal cruise accessories for your cruise ship to extend outlets from cabin.
Specification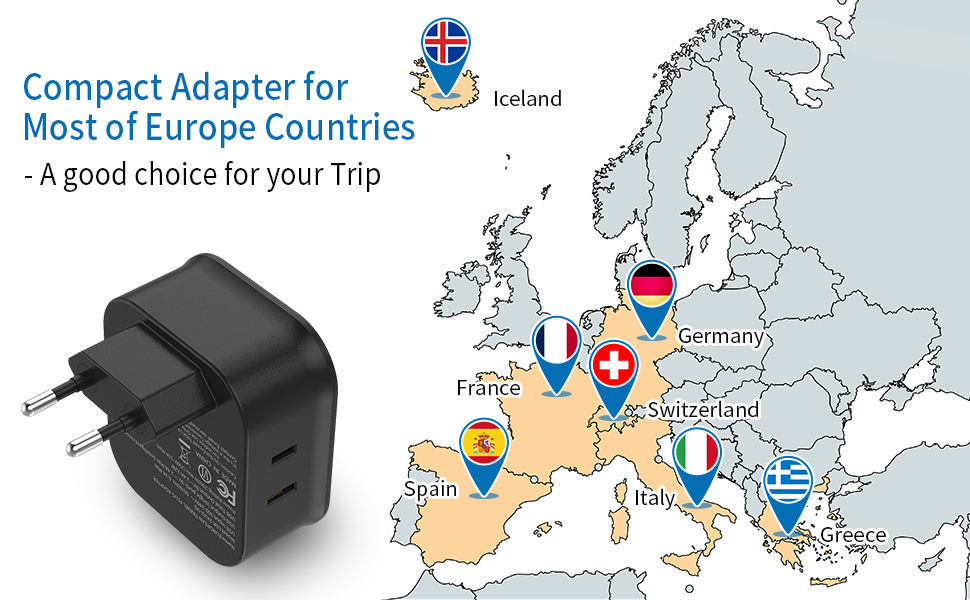 Travel Plug Adapter for Most of Europe Countries
NOT working in the United Kingdom/Ireland/Scotland
Compatible Countries: Armenia, Austria, Azerbaijan, the Azores, the Balearic Islands, Belarus ,Belgium, Bosnia & Herzegovina, Bulgaria, Croatia, the Czech Republic, Denmark, Estonia, Finland, Iceland, France, Georgia, Germany, Greece, Hungary, Italy, Morocco,Kazakhstan, Kyrgyzstan, Latvia, Lithuania, Luxembourg, Macedonia, Moldova, Monaco, Montenegro, the Netherlands, Norway, Poland, Portugal, Romania, Russia Serbia, Slovakia, Slovenia, Spain, Sweden, Switzerland, Tajikistan, Turkmenistan, Ukraine, Uzbekistan, Algeria, the Cape Verde Islands, Chad, Egypt, the Republic of Guinea, Israel, Iran, Iraq, Jordan, Kuwait, Lebanon, Madeira, Mozambique, Niger, Palestine, Saudi Arabia, Syria, Turkey, the United Arab Emirates, Argentina, Bolivia, Bonaire, Brazil, Chile, Peru, Saint Martin, Sint Eustatius (St. Eustace), Suriname, Uruguay, Bangladesh, East Timor, Indonesia, Korea,China, Vietnam, Laos, Myanmar (Burma), New Caledonia.