Cruise Power Strip with 3 USB 3 Outlets - NTONPOWER Travel USB Charging Station with Phone Stand, Cube Tap Power Outlet Extender Adapter, Non Surge Protection - White
stars, based on
( 0 )
reviews
size

3 Outlets 3 USB
6 Outlets 3 USB - BK
Description
---
Product Description

6-in-1 Wall Charger - Cruise Ship Accessories Must Have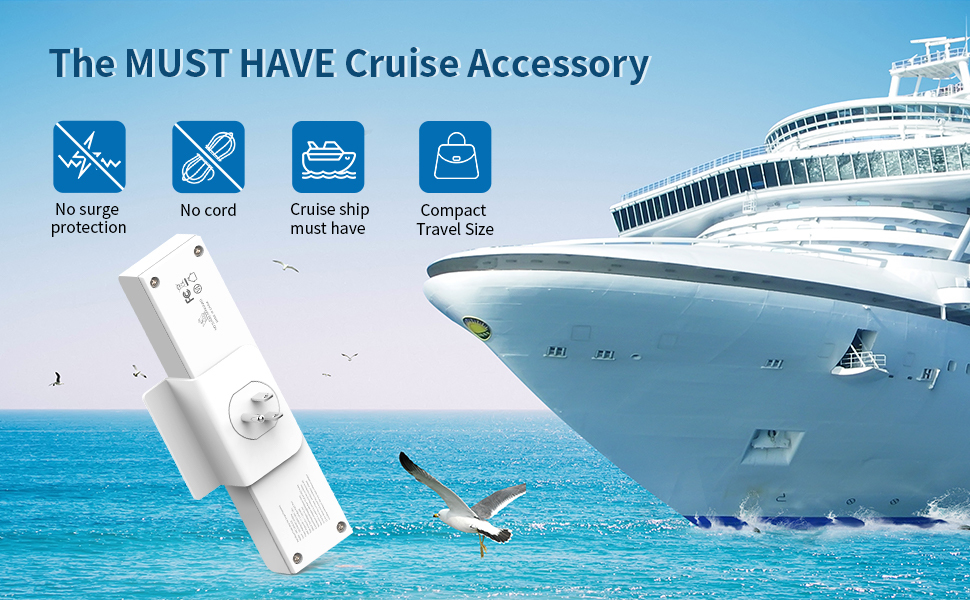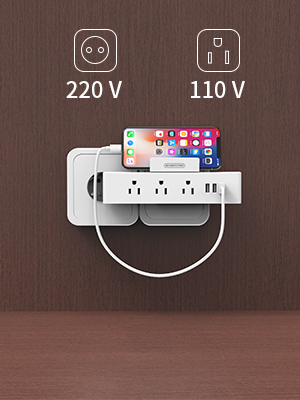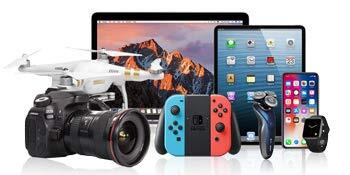 NTONPOWER specializes in multiple outlets USB Power Strips ( Outlets ranged from 2 to 12 ) for home/travel/office/business center.
Meanwhile,Our tops USB Smart Charging Technology enables fast charging and more energy savings.
This product is sold exclusively by NTONPOWER.
Only buy from our store to get genuine NTONPOWER products with superb service
Compact 3 Outlets 3 USB Travel Power Strip
NO SURGE PROTECTION, NO POWER CORD - To be fully cruise compaliant
- Cruise ships implemented rules against surge protectors for safety reasons. Meanwhile,Some cruise lines such as Royal Caribbean also prohibit "electrical extension cords"onboard.
- NTONPOWER 3 outlets power strip with usb does not have surge protection and Power Cord,very convenient for charging 6 devices at once.A perfect companion for cruise ships, hotels, airport terminals, or coffee shops where there are few unreachable outlets.
3 AC Outlets + 3 USB Ports

No Surge Protection, No Power Cord

Input: AC 100 ~ 240V, 50/60Hz

Superior Safety Plus

Dimensions: 8.23 x 3.74 x 2.32 in.

Weight: 6oz / 170g

Charge Multiple Devices at Maximum Speed
-
[6-in-1 CHARGING STATION]

NTONPOWER travel power strip comes with 3 AC outlets 3 USB charging ports and supports a wide range of voltage (100-240V),so you can simultaneously charge your iphone, ipad, camera, smartphone, laptop or tablet when traveling abroad.Note:It doesn't convert voltage.

[CHARGE MULTIPLE DEVICES AT MAXIMUM SPEED]

Smart IC technology enables each USB port to automatically detect and self-adjust the current to speed charge your USB-powered devices such as iPhone, iPad, Samsung, E-readers, Gaming devices, Power Bank with a safe current.

[EASY FOR PACKING]

It is in perfect size that fits right in the palm of your hand.Compact and lightweight design won't take up much space in a bag or weigh you down. — Perfect for travel

[MULTI-PROTECTIONS]

High-end solid capacitors ensure complete protection for your devices from electrical short circuit, over heat, over charging, over current and over voltage.Environmental protection and fire-prevention materials, Flame retardance at 1382(℉)/750(℃).
Meet Most Applications
[AIRPORT BOARDING AREA]

First come, first served - This is true for seats and outlets.NTONPOWER power strip has 3 AC outputs and 3 USB ports, allowing you to share power outlets with your family, friends, or even other passengers at the airports.

[HOTEL & BEDROOM]

Many times hotel rooms or bedroom don't have enough outlets to allow plugging in all your devices.Just need to take ntonpower multi-outlet Wall Charger out and your 'low battery'devices are perfectly handled.

[BATHROOM]

Use NTONPOWER compact one to expand your bathroom outlets and charge your electric shaver, toothbrush, facial cleansing brush, or water flosser.

[KITCHEN]

Prepare food or coffee by plugging in your mixer, blender or coffee maker, and meanwhile charge your iPhone or iPad with its 3 USB ports.